Workforce Solutions Brand Guide
Logo Colors & Preferred Use
Brand Promise
KCTCS Workforce Solutions fosters economic sustainability across the Commonwealth by supporting business and industry in their efforts to attract and retain skilled talent. Workforce Solutions also affords Kentuckian's opportunities to rapidly up-skill and secure good jobs in high-demand fields.
Centering Ideas
Building a skilled workforce.
Customizing talent pipelines.
Improve talent retention.
Pillars
| Connectivity | Consulting | Customize | Competitive Edge |
| --- | --- | --- | --- |
| No matter your workforce needs, we can connect you to the solution – inside and outside of KCTCS. | We are your partner in developing solutions unique to your talent needs. | We will design training specific to your company and deliver training on your preferred schedule. | Finding and keeping skilled talent is the most fundamental concern of businesses today. Our Workforce Solutions can help you maintain a competitive edge. |
Brand Character
Return on investment focused
Professional
Fast
Flexible
Collaborative
Committed
Passionate
Dependable
Visual Identity
The colors, images and fonts used should display a sense of:
Professionalism
Productivity
Career Satisfaction
Cleanliness (to combat the stereotypes of a lot of the sectors we serve)
Diversity – the opportunities are for ALL people from ALL backgrounds
Focused – not too busy – want to insinuate that the option we are providing is THE option/opportunity
Elevator Speech
Workforce Solutions is a one-stop shop for your company's talent needs. We offer customized training for business and industry as well as in-demand open enrollment programs that meet local labor market needs. We offer consultative services and connectivity to a statewide network of workforce partners. Regardless of your workforce priorities – we have an affordable solution for your company. By offering a range of options, from new hire and incumbent worker training to apprenticeship and work-based learning connectivity, we can help your company increase retention, attract a skilled and reliable workforce, and improve employee productivity and satisfaction. We can also offset the cost of your workforce initiatives at up to 75% through our KCTCS TRAINS funding.
Messaging
Caption Text Goes Here
Audiences
Companies

We are your first stop for all workforce needs.
We help companies build a sustainable, skilled workforce.
We can train your current workforce.
We can recruit and train new hires.
We can increase productivity and retention.
We can improve your bottom line.
We are an essential partner.
We can train employees for new skills without losing productivity or time.

TRAINS:

We'll pay for it! Discounts available at 75%.
TRAINS provides training that pays off.
TRAINS creates bigger business, better employees, and boosts the bottom line.
TRAINS will pay for up to 75% of training and services for current or future employees.
We help businesses big and small recruit and retain a highly skilled, sustainable workforce for little to no money thanks to TRAINS.

Job Seekers & Career Changes

KCTCS Workforce Solutions is your launchpad to a new career.
We have fast-track programs that lead to in-demand jobs.
Our programs lead to skill-building, career advancement and greater earning potential.
We can connect you to employers.
Many of our programs lead to a new job in four months or less.

Workforce Stakeholders

We are a trusted workforce partner.
We are a community builder.
We have a portfolio of resources to help meet your client's needs – both business and job seeker.
We are integrated in the community.
We are Kentucky's workforce infrastructure.
KCTCS is at the forefront of forecasting future workforce needs in the economy and creating curriculum to fill gaps.
TRAINS is worthwhile, common-sense investment by the state to ensure businesses and workers grow and continue to succeed.
Logos
The Workforce Solutions logo should be prominently placed on all Workforce Solutions documents, business materials and advertisements. Use the color execution of the logo whenever possible.
A one-color black version is also available and is preferred for documents that will be copied in black/ white; otherwise, the full-color version is preferred.
A reversed version is available for applications on darker backgrounds and colors.
A stacked version has been created for special vertical usage.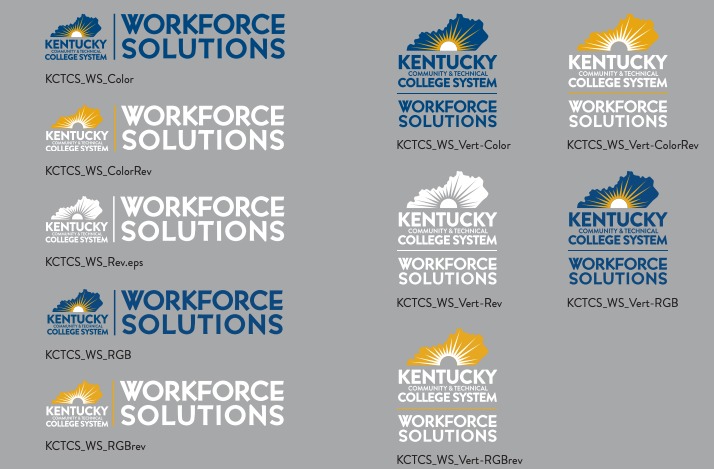 Do not alter (including change colors), separate, reconfigure or recreate the logo.
Do not use a logo found in a web search or pulled from a website
No organization may use the Workforce Solutions logo without the approval of the college or KCTCS marketing department.
Do not add a drop shadow to the logo.
The lettering of the college or system name and Workforce Solutions is specific to the logo design. It should not be recreated
The logo with Customized Employee Training as a tagline is retired and should not be used
Fonts
The approved fonts for Workforce Solutions include Century Gothic, Ultramagnetic Bold and Brandon Grotesque.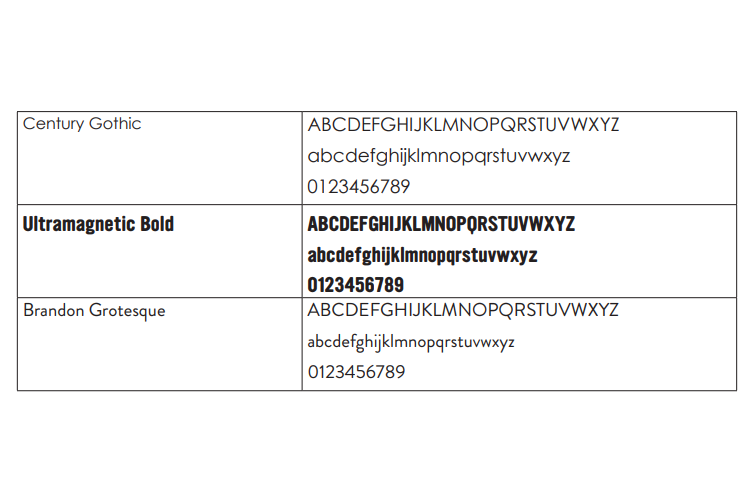 Generally, Ultramagnetic Bold and Brandon Grotesque are used for marketing materials like flyers, brochures and social graphics.
Use Century Gothic for emails and business materials
Colors
While all of the colors in the KCTCS color palette may be utilized in the design of Workforce Solutions marketing materials and business documents, PMS 541 (blue), PMS 131 (gold) and Pantone Cool Gray 6 are the colors most closely associated with the Workforce Solutions brand, and therefore primary usage is encouraged in most instances.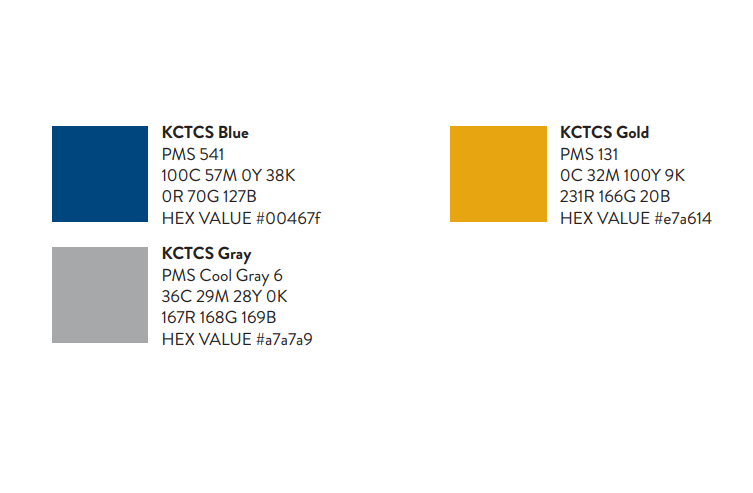 Patterns and Graphics
The chevron used in Workforce Solutions materials creates a sense of movement and gives a unique look to Workforce Solutions. It is specific to Workforce Solutions, including TRAINS and Registered Apprenticeship materials. It can be transparent or use one of the brand colors. It may be expanded to include photos. The bottom point of the chevron should point to the logo and frame
the photo when possible.
TRAINS materials can use the TRAINS graphic and stamp graphic. The TRAINS graphic is specific to TRAINS programs and any variation shown below can be used. The TRAINS graphic is not a logo and should not be used in place of the college or Workforce Solutions logo. TRAINS materials can also use the stamp graphic to highlight discounts specific to the TRAINS program. It is a vector image and should not be recreated. Use it in a color that contrasts with the background (usually a photo).

Marketing Materials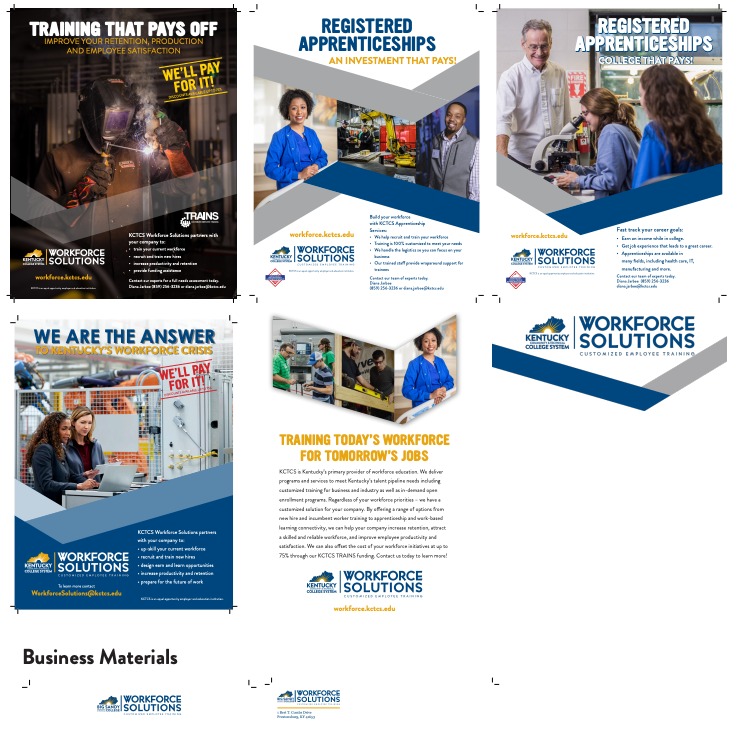 Business Materials