Workforce Solutions Brand Guide
Logo Colors & Perferred Use
The Workforce Solutions logo should be prominently placed on all Workforce Solutions documents, business materials and advertisements typically within the System Arch. We recommend using the color execution whenever possible.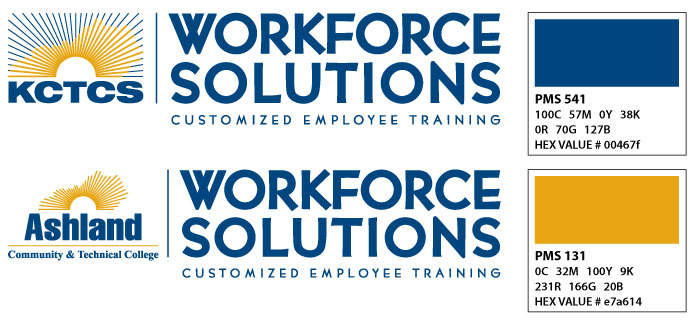 Variations
A one-color black version is also available and is preferred for documents that will be copied in black/ white; otherwise, the full-color version is preferred.
A reversed version is also available for applications on darker backgrounds and colors.
A stacked version has also been created for special vertical usage.

Fonts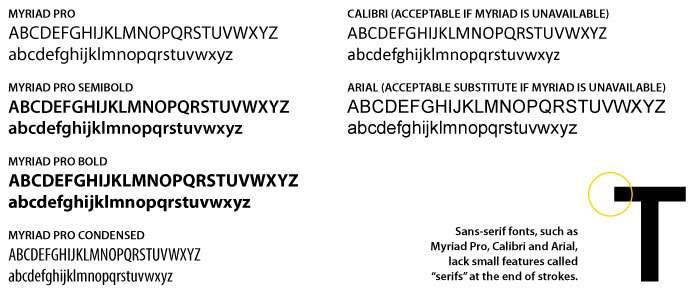 The approved fonts for Workforce Solutions include Myriad Pro, Myriad Pro SemiBold, Myriad Pro Bold, Myriad Pro Condensed. Calibri and Arial are acceptable substitutions is Myriad is unavailable.
As sans-serif fonts, Myriad Pro, Calibri and Arial lack small features called "Serifs" at the end of strokes.
Preferred Colors
While all of the colors in the KCTCS color palette may be utilized in the design of Workforce Solutions marketing materials and business documents, PMS 541 (blue) and PMS 131 (yellow) and Pantone Cool Grey 5 are the colors most closely associated with the Workforce Solutions brand, and therefore primary usage is encouraged in most instances
KCTCS Blue
PMS 541
100C 57M 0Y 38K
0R 70G 127B
HEX VALUE #00467f
KCTCS Gold
PMS 131
0C 32M 100Y 9K
231R 166G 20B
HEX VALUE #e7a614
Cool Gray
Cool Gray 5
28C 21M 18Y 1K
177R 179G 179B
HEX VALUE #B1B3B3
Workforce Solutions Rules
Workforce Solutions materials and advertisements are subject to the KCTCS branding guidelines, including, but not limited to, the use of the System Arch and System Bar.
The Workforce Solutions logo has specific arrangements and proportions for all of its components. Please do not separate or reconfigure the logo. Logos for the System Office and all colleges are available for download on the Brand Guide.
For print applications, it is recommended the symbol portion of the Workforce Solutions logos be at least 5/8" wide. For web applications, a width of at least 100 pixels is suggested.
Workforce Solutions may use the approved sub-brand tagline, Customized Employee Training in place of the System tagline. This tagline should be prominently placed on all Workforce Solutions business and marketing materials, preferably as a part of the logo.
In TV and radio it is recommended that the Workforce Solutions tagline be vocally pronounced at the end of the commercial.
Sample Materials
The materialslinked tobelow have been created and are available for your use. Please contact the Marketing Department at the System Office for assistance.
Workforce Solutions Marketing Materials Samples
* Please note that these are old examples that include retired logos for KCTCS and Ashland Community & Technical College. They are currently under review.