Board of Regents
KCTCS Board of Regents
KCTCS is governed by a 14-member Board of Regents. Eight members are appointed by the Governor and six are elected members; two teaching faculty elected by faculty, two nonteaching personnel (staff) elected by nonteaching personnel, and two students elected by students.
Current Members
Ms. Gail R. Henson, Ph.D., KCTCS Board Chair, lives in Louisville, Kentucky. Dr.
Henson is retired from Bellarmine University. She served as a professor and past-chair
of the Department of Communication, which she founded in 1987. She also directed the
Brown Scholars and Senior Interdisciplinary Program. She has extensive leadership,
public service, and community service experience for which she has received several
awards, including the Louisville Bell Award, the Bellarmine Miles Award, and the
Metroversity Award for Service Related to Adult Learning. A past at-large member of
the Kentucky Board of Education and chair of the Kentucky P-16 State Council and
elected member of the Jefferson County Public Schools Board of Education, she is a
member of several national organizations, such as the Association for Education in
Journalism and Mass Communication, Society for Professional Journalists, and the
National Hospice and Palliative Care Organization. An accomplished author and
presenter, Dr. Henson is the author of The Gentle Agitator: An Oral Biography of Dr.
Samuel Robinson, numerous articles in The Encyclopedia of Multicultural America
(SAGE), and The Kentucky Encyclopedia. She received a fellowship to research death
and dying at Oxford University in 2012. Dr. Henson's academic interests in end-of-life
communication, communication and the elderly, and intercultural communication are
reflected in her research and teaching as well as civic service to a great number of
organizations, including the Foundation for a Healthy Kentucky Community Advisory
Council (Chair) and Hosparus Volunteer Leadership Board of Louisville. In June 2020,
Dr. Henson was re-elected as KCTCS Board Chair for a Board Officer term that ends
June 30, 2021. Dr. Henson was reappointed to the Board in 2015 for a six-year term that
ends in 2021.
Ms. Lisa V. Desmarais, KCTCS Board Vice Chair, lives in Covington, Kentucky. She is
a retired technology, finance, and operations professional who most recently was the
Director of Technology Services for Kenton County, KY. Ms. Desmarais previously
worked for the city of Covington, KY as the Director of Finance & Operations and spent
12 years in the nonprofit sector as an Executive Director and as a Director of Facilities
and Technology in the K-12 school system. Prior to her work in the nonprofit sector, Ms.
Desmarais worked in for profit companies for 16 years as a technology professional.
She is active in her community serving on nonprofit boards and committees. She
currently serves as a Board Member of Covington Partners, an educational support
organization that serves the Covington Independent Public Schools. In addition, she is a
Board Member of the Behringer-Crawford Museum in Covington, KY. After receiving
her Masters of Public Administration (MPA) from Northern Kentucky University in
2012, she joined the faculty of Northern Kentucky University as an adjunct professor
where she taught classes in the MPA program.
Along with her husband, Normand Desmarais, who currently serves as Vice Chair of the
Board of Regents at Northern Kentucky University, Lisa received two awards for
community service and leadership: the Behringer-Crawford Museum Two-Headed Calf
Award in 2016 and the Friends of Covington, KY Award in 2019. In June 2020, she was
re-elected as KCTCS Board Vice Chair for a Board Officer term that ends June 30, 2021.
She will serve a six-year term that expires in 2022.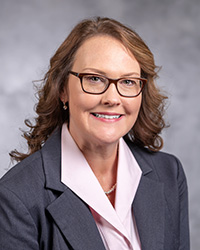 Dr. Wendy Fletcher, DNP, APRN, FNP-BC, FAANP lives in Morehead, KY. Dr. Fletcher is the Clinical Director of Advanced Practice at St. Claire HealthCare and works as a legal nurse expert defending APRN scope of practice, providing expert opinion of standards of care. She serves as the President of the KY Association of Nurse Practitioners and Nurse Midwives and is a two-time past president of the KY Coalition of Nurse Practitioners and Nurse Midwives. Dr. Fletcher has held several leadership offices within that organization over the last 20 years, and has served on the KY Board of Nursing's Advanced Practice Council, as well as KY Medicaid Nursing Technical Advisory Committee. In 2005, Dr. Fletcher founded Health Plus, PSC, in Morehead, where she cared for over 5,000 patients in her nurse led primary care practice. Dr. Fletcher has experience as a nursing educator, having taught undergraduate assessment and lab courses and graduate-level health policy and leadership education. She continues to be active in the community, serving on nonprofit boards and providing financial and service support for several organizations, including the Morehead State Alumni Association, the Hope Pregnancy Center, the Northeast chapter of KY Right To Life, and the KY Long Rifle Association. Dr. Fletcher earned a Bachelors of Science in Nursing degree from Morehead State University, a Masters of Science in Nursing degree from the University of Kentucky, and a Doctorate of Nursing Practice from Texas Christian University. She resides in Morehead, KY, with her husband Richard, and has two daughters, Allison and Reagan. Dr. Fletcher was appointed to replace Ms. Karen Finan, who resigned. Dr. Fletcher will serve the remainder of Ms. Finan's term that expires in 2023.
Mr. Damon V. Allen, lives in Covington, Kentucky. He is the is a Senior Vice President and the Community Investment Officer for the Federal Home Loan Bank of Cincinnati (the "FHLB"). Mr. Allen's responsibilities include oversight and administration of the FHLB's Housing and Community Investment Department. He joined the FHLB in 1999 as the manager of the Credit Financial Analysis division within the FHLB's Credit Services department. After several years in the Credit Services Department he joined the Housing & Community Investment Department in 2008.
Prior to joining the FHLB, Mr. Allen worked briefly for FedEx and served four years as a Captain in the U.S. Air Force. Mr. Allen sits on the boards of Brighton Properties, Inc. in Covington, Kentucky, NextStep, Inc. in Louisville, Kentucky, and the Freestore Foodbank in Cincinnati, Ohio. Mr. Allen holds a B.B.A. in Accounting from Howard University and a M.B.A. in International Business and Finance from The University of Miami.

Mr. Allen was appointed to replace Mr. Barry Martin, whose term had expired. He will serve a six-year term that expires in 2024.
Ms. Karen A. Finan, lives in Fort Mitchell, Kentucky. She is President & CEO of
the Northern Kentucky Regional Alliance, formed in 2017 to focus on strategic
initiatives in the areas of regionalism, health, education, job growth and community
vibrancy. Finan had been partner at Gilman Partners since September 2013 where she
built a talent recruiting practice specializing in real estate, economic development and
construction. Fortified with extensive background in a variety of industries, Ms. Finan
previously served as SVP for Northern Kentucky Tri-County Economic Development
Corporation (Tri-ED) where she led relocations/expansions at the national level
accounting for over $250 M in Capital investment in the Northern Kentucky region. She
previously directed national marketing and new business efforts at Duke Realty
Corporation and Duke Construction. Active in the regional community, Ms. Finan is
past chair of the Northern Kentucky Education Council and Aviatra Accelerators, an
organization that enables women to start and sustain businesses by providing the
resources needed for success. She is past chair of Redwood and serves on the Notre
Dame Academy board. Ms. Finan serves as the Vice- Chair for Finance of the KCTCS
Board of Regents. Ms. Finan was appointed to replace Mr. Porter Peeples, Sr., whose
term had expired. She will serve a six-year term that expires in 2024.
Angela Fultz, Ph.D., lives in Morehead, KY. She teaches chemistry at Maysville Community and Technical College (MCTC) and also serves as Division Chair for the Math, Science, and Agriculture Division. Dr. Fultz's leadership experiences include: three terms as Chair of the KCTCS Senate Council, Chair of the Maysville Faculty Assembly, MCTC Leadership Team, Chair of the KCTCS Chemistry Curriculum Workgroup, and service on the KCTCS Senate Advisory Committee on Promotion. Dr. Fultz completed the 2010-11 KCTCS President's Leadership Seminar and is also a member of the Kentucky Academy of Science. She received her Bachelors of Arts degree from Berea College and her Masters of Science and Doctor of Philosophy degrees from the University of Kentucky. Dr. Fultz serves as the Chair of the KCTCS Board of Regents Efficiency, Effectiveness, and Accountability Committee. In September 2018, Dr. Fultz was elected to serve a term as the General Education Faculty Regent. Dr. Fultz's term as faculty regent ends in October 2021.
Ntambidila Samech Gbili lives in Lexington, Kentucky. He is from the Democratic Republic of Congo. Currently he serves as the Student Government Association (SGA) President for Bluegrass Community and Technical College. He is the first in his family to ever attend college. He is currently pursuing an Associate in Science for biomedical engineering and will transfer to University of Kentucky to continue his degree. He has interned at the Kentucky refugee ministries to serve those coming to the United States to resettle in the country. He has overseen the youth group in his church since 2015 to teach apologetics. He has been part of two orphanage organizations since 2014, Hope for Congo International ministries and RCDI-ONDG to help the less fortunate back home in Congo. In his free time, he loves to create new things, challenge himself, record, edit, make music, draw, research, read, write, and educate others. Mr. Gbili was elected as an alternate through the student election to fulfil the term of a Student Regent who resigned, in October 2020. His one-year term as Student Regent will expire August 2021.

Mr. Chris Girdler lives in Somerset, KY. Mr. Girdler is the President & CEO of Somerset Pulaski Economic Development Authority, also known as "SPEDA". In addition to being elected senator for Kentucky's 15th district in 2012 (a position he decided not to run for a second term), Girdler is a graduate of Pulaski Southwestern High School and Eastern Kentucky University, where he earned a earned a Bachelor of Business Administration degree. Mr. Girdler previously served as a CEO in the houseboat manufacturing industry and is the founder and President of Possum Trot Investments LLC, an investment and consulting company. Mr. Girdler resides in Somerset, KY, with his wife Courtney, and has two daughters, Charleston and Channing. Mr. Girdler was appointed to replace Mr. Donald Tarter, whose term had expired. He will serve a six-year term that expires in 2025.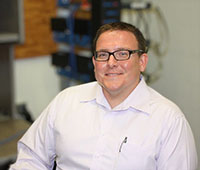 Mr. Joe L. Heerdink is the Regional Director of Information Technology at Henderson
Community College and Madisonville Community College. As the IT Director he
provides leadership, planning, and direction for the Technology Solutions departments.
His teams are responsible for the computers, servers, student technology, & network
infrastructure on both the HCC & MCC campuses.
In 2013 Joe received his Bachelor of Science in Information and Operations
Management at Indiana University Southeast as a non-traditional student with a minor
in Computer Science. He is currently attending Western Governors University pursuing
a Master of Science in Cybersecurity and Information Assurance.
Before taking on his roll as Regional Director of Information Technology at KCTCS, Joe
has served in many technology roles. From 1997 to 2008 he was the IT Director for F.C.
Tucker Emge REALTORS. While obtaining his bachelor's degree he worked full time for
Indiana University as an IT Specialist. Post undergraduate work Joe worked as a
Business Operations Support Specialist for Wide Open West, later taking on a brandnew role as a Regional IT Support Specialist for Peabody Energy.
Mr. Heerdink was elected through a special election to fulfil the General Education Staff
Regent to the KCTCS Board of Regents, in July 2020. Mr. Heerdink' s term as Staff
Regent ends in October 2021.
Kara McFadyen lives in Morgantown, Kentucky. She has a passion for education and
service which is why she likes to inspire people to get excited about being involved in
servant leadership. Currently she serves as the Student Government Association (SGA)
President for Owensboro Community and Technical College. She got her start serving
in leadership capacities at the local, regional and state levels for Kentucky 4-H. Most
recently as a member of the Kentucky 4-H State Science, Engineering and Technology
Leadership Board and as Mammoth Cave Area Teen Council Vice-President. 4-H
allowed her to travel across the country, meet many new friends, and enabled her to be
selected as a National Google Teen Ambassador, giving feedback for the 4-H National
Youth Science Project. She was recognized with a President's Volunteer Service Award
for her projects in youth science and food recycling as a long-time GleanKY and
Morgantown Soup Kitchen volunteer. Growing up on a farm with her parents, she and
her brother, Gabe, have participated in the Kentucky State Fair competing (and
sometimes even winning) awards in entomology, rabbits, produce, and photography
since 2011. In her freetime, she enjoys being a bookworm, a blackbelt in TaeKwonDo
and an entrepreneur, self-funding her education with scholarships and a virtual
Poshmark closet @kentuckylucky. She thinks of herself as a small town girl with a big
heart for Jesus and liberty. She is completing a double major in Engineering &
Electronics Technology and Industrial Engineering while finishing her homeschool
high school degree. She is grateful to be on the President's List and a member of Phi
Theta Kappa. Kara has a keen interest in Biomedical Sciences and ultimately in
pursuing a career in Medicine. Her one-year term as Student Regent will expire August
2021.

Mr. James Lee Stevens, lives in Madisonville, Kentucky. He is a retired
Superintendent of Hopkins County Schools having served 45 years in public education,
42 years of which were served in Hopkins County, and 13 of which were served as the
Superintendent. Mr. Stevens also served 24 years in the U.S. Army Reserve and retired
as a Lt. Colonel. He has been active in community and service organizations, including
serving as a member of the School Facilities Construction Commission (past chairman)
until December 2020, Urban Superintendent Association, Kentucky and National
School Boards Associations, Kentucky Association of School Administrators, the
Kentucky Association of Fairs and Horse Shows (past-Chair), the Kentucky Education
Association (over 30 years) the Kentucky Parent Teacher Association (life-time
member), and Phi Delta Kappa. Mr. Stevens received a Bachelor's of Arts in Health and
Physical Education, a Master's in Political Science, and Rank I in School Administration
from Murray State University. Mr. Stevens has been married to his wife Kaye, for 57
years. He has two children John Aaron Stevens, who lives in Louisville and Ann Kaye
Stevens who lives in Lexington. Mr. Stevens was appointed to replace Ms. Doris
Thomas, whose term had expired. He will serve a six-year term that expires in 2021.
Ms. Tammy C. Thompson, lives in Paducah, Kentucky. She received an associate in
arts degree in 1989 from Paducah Community College (now West Kentucky Community
and Technical College, WKCTC) and a bachelor's degree in radio and television from
Murray State University in 1991. She worked at WPSD-TV Local 6, the local NBC
affiliate, following graduation. Prior to accepting the position as public relations
coordinator at WKCTC in 2009, Ms. Thompson worked as a television
producer/director for college's television department for 16 years. Ms. Thompson is
active in numerous college committees and coordinates college events, including the
spring and fall commencement ceremonies. She also volunteers in the community,
including as a mentor in a local high school program and serves in her church. In
September 2018, Ms. Thompson was elected to the KCTCS Board of Regents to serve as
an Occupational/Technical Education Staff Regent for a second term. She will serve a
three-year term, which began October 12, 2018, and continues through October 12,
2021. This is Ms. Thompson's second term on the board.
Mr. Mark A. Wells, lives in Prestonsburg, Kentucky. Mark currently serves as the
Division Chair for the Social/Behavioral Sciences and Business Division at Big Sandy
Community and Technical College. He also teaches business administration and
accounting courses at the college. Mr. Wells' system leadership experience includes
having served four terms on the KCTCS Senate Council and multiple terms on the
KCTCS Senate Advisory Committee on Appeals. At Big Sandy Community and Technical
College, Mr. Wells has served on the college's Board of Directors, Faculty Council, and
has served as the Faculty Council Co-Chair. Mr. Wells has been honored four times with
the NISOD Excellence Award and is a graduate of the KCTCS President's Leadership
Seminar. Mr. Wells received undergraduate degrees in Business Administration
(Accounting) and Secondary Education (Business Education) from Eastern Kentucky
University. He also received his Masters Degree in Education from Eastern Kentucky
University and has completed additional graduate work in accounting at Morehead
State University. In September 2018, Mr. Wells was elected to a second term on the
KCTCS Board of Regents as the Occupational/Technical Faculty Regent. He will serve a term from October 2018 to October 2021.